Contact Us at 610-996-8733 (TREE)
301 Marsh Road Elverson, PA 19520
Hours: Friday, Saturday and Sunday 9 - 4:30 (Cut trees 11/27/2015 to 12/23/2015)
Cash, check or credit
New in 2011 Tree Farm

30,000 Christmas Trees to choose from 6-14 ft tall for the 2016 season.
We have more trees available to cut this year! If you need large trees we have them.





---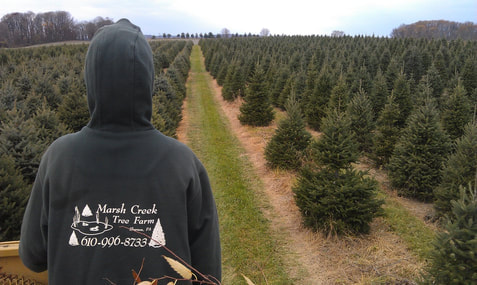 How it works............
This is a cut your own tree farm with live trees ready to be harvested. We also sell B&B trees (Ball and Burlap). These trees can be planted at anytime, before or after Christmas. At your arrival you will be greeted by an employee and they will provide you a saw for your hunt. A hayride is consistently running to provide quick pick up and drop of you and your tree. When you return with your tree you may choose to receive a cup of our complementary hot chocolate. There is nothing like a fresh cut Christmas tree! Buy Local, Buy Fresh!