​Tree Farm
Hours: Friday, Saturday and Sunday 9-4:30 (Cut trees 11/24/2017-12/23/2017)

25,000 Christmas Trees to choose from 7-16ft. tall for the 2017 season.
We have more trees available to cut this year! If you need large trees we have them.





---
How it works............
This is a cut your own tree farm with live trees ready to be harvested. We also sell B&B trees (Ball and Burlap). These trees can be planted at anytime, before or after Christmas. At your arrival you will be greeted by an employee and they will provide you a saw for your hunt. A hayride is consistently running to provide quick pick up and drop of you and your tree. When you return with your tree you may choose to receive a cup of our complementary hot chocolate. There is nothing like a fresh cut Christmas tree! Buy Local, Buy Fresh!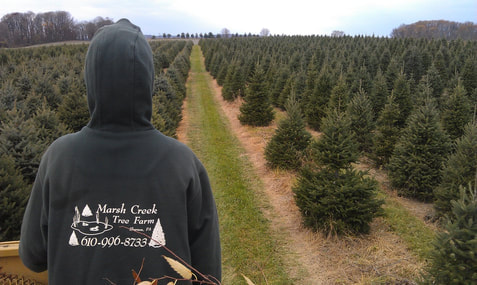 ---

First Customers with their tree!


The Christmas Tree Baler in action


Directions

We are located a half mile off of Rt. 401 between Ludwigs Corner and Elverson, PA
2017 Christmas Tree Inventory for Cut Your Own
All of our cut your own trees are based on $9 per foot
Real Christmas Trees are grown on farms just like any other crop, and these farms employ more than 100,000 Americans. To ensure a constant supply, Christmas Tree growers plant one to three new seedlings for every tree they harvest. So cutting a tree does not reduce the number of trees working to purify the air. In fact, if more trees are cut and sold, the industry will plant even more trees for tomorrow. And here's what happens: Every tree absorbs carbon dioxide and other gases, and emits fresh oxygen. It's natures filtration system. What's more, the Christmas tree farm helps to stabilize the soil, protecting the water supplies and providing refuge for wildlife. These beautiful, scenic belts of trees are often grown on soil that doesn't support other crops, making it another win-win for the environment.

About the Artificial Tree
No matter what they do, an artificial tree will never look like, feel like or smell like a real Christmas tree. Pine sol isn't the same as the aroma of a real tree fresh from the farm! What's more, most artificial trees are a petroleum-based product manufactured primarily in Chinese factories. Smokey freighters bring the artificial trees to the U.S.
The average family uses it's artificial tree for only six to nine years before throwing it away-where it will remain in a landfill for centuries after it is discarded.